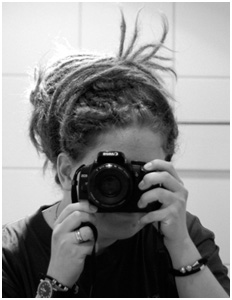 Mitt namn är Liselott Lindberg och jag har funnit min passion! Jag älskar rock och jag älskar foto. De två kombinerat är det absolut roligaste jag har gjort.
Jag använder den här bloggen lite som ett digitalt anteckningsblock som jag alltid kommer åt. Jag håller isär trådarna i mitt huvud och kan gå tillbaka och titta på vad jag faktiskt har lärt mig genom åren.
Vad har hänt hittils?
Del 1, att få en kamera: Jag har alltid fotat, det är svårt i min familj att inte göra det. Pappa samlar på gamla kameror och brorsan är även han väldigt intresserad av foto. Julen 2006 gick jag och vann (!) min första systemkamera (EOS 400D) i en julkortstävling arrangerad av tidningen City. Sedan dess har mitt fotointresse bara accelererat. 2009 utropade jag "fotosommaren 2009" och tog tag i det på riktigt, jag skulle komma från "P" läget på kameran: jag läste mycket böcker, testade, gav mig själv läxor och bloggade. Jag lärde mig fantastiskt mycket, men hade lite svårt att hitta en inriktning.
Del 2, en förhållandevis seg början: Jag fotade några event för jobbet under 2007 och 2008. Jag gjorde detta mest för att jag var uttråkad på festerna och tyckte det var roligt att fota. 2009 tog jag för första gången med mig kameran till en spelning på eget bevåg, det var min kompis Johans band Milou (senare Drylight) som spelade. Sjukt roligt och jag fotade tre spelningar med dem under 2009.
Del 3, kurs i rockfoto: Den 10 april 2010, en fredag, sitter jag och slösurfar på Facebook och då dyker det upp: Fotografiska ska öppna och lanserar direkt ett antal kurser. En av dessa är Rockfoto på Peace & Love med Emma Svensson. Jag anmälde mig utan att kolla om jag hade pengar, hotellrum eller semester från jobbet. Tur att jag anmälde mig direkt för kursen var fullbokad på några timmar. Resten har en tendens att lösa sig.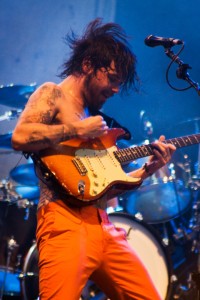 Kursen på Peace and Love i Borlänge gick av stapeln veckan efter jag var på min första festival någonsin. Efter att aldrig ha varit på festival är jag på två under loppet av två veckor. Biffy Clyro, mitt blivande favoritband, spelade på båda festivlerna.
Jag fick många gånger under Peace & Love, riktiga rysningar, håren på armarna ställde sig på ända och jag förälskade mig i känslan i bröstbenet när man går förbi högtalarna och bandet precis har börjat spela. Hela kroppen vibrerar. Musiken blir fysisk på riktigt. Jag fotade många band på Peace and Love, men det var något speciellt med Biffy. Kursen på det stora hela var fantastisk och jag lärde mig enormt mycket. Den blev startskottet till världens roligaste hobby som jag ägnar mig åt så mycket jag bara orkar.
Del 4, på egna ben: Hemkommen från kursen och med en ny aptit på foto, musik och livet i allmänhet så började det klia i avtryckarfingret ganska snabbt. Det visade sig vara ganska svårt att få ackreditering till spelningar utan att ha en uppdragsgivare. Jag fick på egen hand ackreditering (mot biljett) till Popaganda och fick i samma veva kontakt med Festivalphoto.
Del 5, Festivalphoto: Jag börjar fota för Festivalphoto, och en dag dimper det ner ett mail som jag faktiskt inte vet riktigt varför jag fick: "Trots en inställd Göteborgsspelning har killarna i Biffy Clyro återhämtat sig och kommer nu till Debaser Medis på Torsdag. De finns tillgängliga för intervjuer så hojta till om ni är sugna!" Gissa om jag hojtade! En fullständigt star-struck Lotta gör sin första intervju med Ben Johnston från Biffy Clyro den 21 oktober 2010. På sex månader har jag gått från att aldrig ha hört ordet ackreditering till att intervjua en av mina nya hjältar. Det här är sjukt stort för mig, för sån't här händer ju inte. Klart man undrar var det bär vägen här näst!
Under 2010 fotade jag 99 band. Jag vet, jag borde ha fotat ett till, men det blev så. 2011 fortsatte med massor av mer underbar musik. Läs lite mer och se sammanfattningar här:
Del 6: LiveNews.se: Under början av 2012 hade jag och några vänner funderat tillräckligt. Vi hade en idé om att bilder alltid borde publiceras med text och jag tror stenhårt på att man vill läsa lite om konserten man ser bilderna till. Ganska självklart faktiskt, därför lämnar jag det rena bildbyråtänket och startar upp LiveNews.se. En nyhetssite om livemusik!
Framtiden…
…jag kommer fortsätta att utveckla LiveNews.se tillsammans med mina vänner. Vi fotar och bygger något som jag i framtiden kommer vara den främsta siten man går till för konsertnyheter! Så ser det ut just nu, men man vet aldrig vad framtiden innehåller. Spännande värre!
Artister jag fotat:

100 Monkeys
21st Century Messiah
3 Doors Down (x2)
30 Seconds To Mars (x2)
5th Avenue
77
A day to remember
A Loss For Words
A Silent Escape
Abalone Dots
Adventure of
Aiming For Your Head
Airbourne
Albin Gromer
Ali Campbell´s UB40
Alice Cooper
Alice in Chains
Alter Bridge (x2)
Alternative High
Alunageorge (x2)
Amaranthe (x3)
Andreya Triana
Ann-Sofi Söderqvist Jazz Orchestra
Anna Järvinen
April Divine
Arcade Fire (x2)
Arch Enemy
Arctic Monkeys
As I Lay Dying (x3)
Asking Alexandria
Asta Kask
Atari Teenage Riot
Avatar (x2)
Avett Brothers
Avicii
Avtalet
Azure Blue (x2)
Bad Religion
Badmouth
Band of Horses
Band of Sculls
Bara på låsas
Baroness
Bart Hafeman
Basko Believes
Bastille
Belle & Sebastian
Biffy Clyro (x5)
Bilal
Billion Dollar Babies
Billy Idol
Billy Talent (x2)
Black Oak
Black Sabbath/Ozzy Osbourne
Black Stone Cherry (x2)
Blindside
Blowsight
Bo Kaspers Orkester (x2)
bob hund (x2)
Bobby Womack
Bohemian Lifestyle
Bohuslän Big Band
Bombus
Bon Jovi
Bonafide
Brända Barn
Britta Persson
Brodinski
Broken Door (x2)
Brothers of End
Browsing Collection
Buckcherry
Bullet (x3)
Bullet for my Valentine (x2)
Caliban
Captain Black Beard
Cara
Carl Norén
Casablanca
Cass McCombs
Cervello
Charlee Nyman
Chic featuring Nile Rogers
Chords
Chris Laney (x2)
Cloven Hoof
Coheed & Cambria
Combustion
Contakt
Corroded
Corrosion of Conformity
Cosmo Jarvis
Counterpoint
Crashdïet (x4)
Crown The Empire
Crucified Barbara
Culkin
Cults
D-A-D
Dalton
Damien Rice
Damn Delicious
Dan Croll
Dan Reed
Dan Reed Network
Daniel Adams-Ray
Danko Jones (x5)
Danny Saucedo (x2)
Dante
Dapz
Darin
Daughtry (x2)
David Sanborn Trio
Days of Jupiter
Dayshell
De Høje Hæle
De Montevert
Dead by April (x2)
Deap Vally
Debbie Ray
Deftones
Delorean
Den Svenska Björnstammen (x3)
Deportees
Dinosaur Jr
Dirty Passion
Dirty Penny
Disturbed
Docenterna
Dolly Daggers
Dollykollot
Doug Seegers
Dream Theater
Dregen
Drivvedsfolket
Drop The Pilot
Dropkick Murphys (x2)
Dry the River
Drylight
Dudes
Duvchi
Dynazty
Eagles of Death Metal
Ed Kowalczyk
Ed Sheeran
Eldrimner
Electric Banana Band (x2)
Electric Boys (x2)
Elize Ryd
Ellen Sundberg
Ellie Goulding
Emmure
Engel
Ensamhushåll
Enter Shikari
Eric Gadd (x2)
Erik Halldén
Europe (x2)
Exent
Eyonize
Factory Brains
Familjen (x3)
Fatal Smile
Fearless
Film Death
First Aid Kit
Five Finger Death Punch
Fjärilseffekten
Flogging Molly
Foo Fighters
Foster The People
Four Year Strong
Frank Turner & The Sleeping Souls
Frantic Amber
Frantic Sunday (x2)
Frida Hyvönen (x2)
Frightened Rabbit
Friska Viljor
Gallows
Ghost
Gladys Del Pilar
Glamour of the Kill
Gogol Bordello
Grace Potter and the Nocturnals
Grandeville
Graveyard (x4)
Great Rusch
Great White
Guano Apes
Gus G
H.E.A.T (x2)
Hägerstens Botaniska
Halestorm (x4)
Hank & Cupcakes
Happy Hands Club
Hardcore Superstar (x3)
Harleqeen
Hästpojken (x2)
Heaven Shall Burn
Helen Olofsson (x2)
Hell On Wheels
Hellsingland Underground (x2)
Henrik Berggren
Her Bright Skies
Here Is Your Temple
Hidden Hearts Club
Hoffmaestro & Chraa (x3)
Hökartorget (x2)
Honningbarna
Horisont
Hot Chip
Humfree Bug Art
Hurts
I Blame Coco
Icona Pop
Iggy & The Stooges
Imagine Dragons (x4)
Imber (x2)
In Bloom
In Flames (x2)
Indevotion
Indigo Trio
Intermezzo
Invasionen
Is Tropical
Israel Nash
Itchy Daze
Jake Lee's Red Dragon Cartel
Jamaica
James Morrison
Jason Isbell
Je Suis!
Jenny Wilson
Jimmy Eat World
jj (x2)
John Corabi
John Lindberg Trio
John Talabot
Johnossi (x3)
Josh Groban
Julia Vero (x2)
Julian Casablancas
Junip
Justin Bieber
Kalle Moraeus
Karl X Johan
Kasabian
Kastrup
Katatonia
Katzenjammer
Keel
Khoma (x5)
Kids In Love
Killer Clan of F.U.N
Killerball
Killing Touch
Kim Vestin
Kindness
Kingdome Come
Kings of Convenience
Kira HC
Kissin Alice
Korn
Kurt Vile & The Violators
Kutterfugel
Kvelertak
Lasse Lindh
Last Days of April
Last Lynx
Leave The Sky Behind
Lekverk med gäster
Lenny Kravitz
Lifer
Like Moths to Flames
Lindforest
Linkin Park
Linnea Henriksson
Linnea Olsson
Little Children
Lizz Wright
Lizzy Borden
LMFAO
Lo-Fi-Fnk
Local Dealers
Looptroop Rockers
Loreen
Los Explosivos
Love Antell
Lucy Seven
Lumineers
Lykke Li
M.I.A
M.ILL.ION
Magic Numbers (x2)
Magnus Uggla (x3)
Mamont
Marilyn Manson
Markus Krunegård
Marty Friedman
Mash Up International
Mashima
Massdistraction
Mastodon
Matraca Berg
Me And My Army
Meadows Ever Bleeding
Meja
Memphis May Fire
Midlake
Midlight
Midvinterblot
Mika
Milano Sun
Milou/Drylight (x4)
Min Stora Sorg (x2)
Minora
Monster Magnet
Mumford & Sons (x2)
Musikkollektivet (x2)
Mustasch (x3)
My Bloody Valentine
Naked And Famous
Naomi Pilgrim
Navet
Negative Nancy
Neon Indian
Neverstore
Nicke Borg Homeland
Nickelback
Nicole Atkins
Nicole Sabouné (x2)
Nine Inch Nails
Nitery
Noah And The Whale
NONONO
Noonie Bao (x3)
OneRepublic
Opeth
Orsa Spelmän
Oskar Linnros (x2)
P!nk
Pain of Salvation
Panter
Papa Roach
Paradise Lost
Parker Lewis
Parkway Drive (x2)
Passenger (x2)
Patrick Wolf
Peter Getz
Petter (x2)
Phoenix
Pink
Pixies
Plan Three (x2)
Plastanka
Pontus De Wolfe
Postiljonen
Pretty Boy Floyd
Project Bongo
Pronoid
Prylf
Queenfish & Other tales
Raised Fist (x2)
Raubtier
Reckless Love
Red Hot Chili Peppers
Reenact
Regina Spektor
Renegade Five
Rise Against
Rising
Rob Zombie
Robyn
Rock n Roll Allstars (x3)
Roxette (x2)
Roxie77
Royal Republic (x2)
Rumble in Rhodos
Sabaton
Sade
Sahara Hotnights
Saint Deamon
Saint Etienne
Säkert!
Samling
Sanna Nielsen
Saqwerty
Sara Varga
Sator
Savages
Scorpions
Scots On Ice
Screamer
Secrets
Seether
Seremedy
Serenades
Seun Kuti & Egyptian 80
Seventh Void
Seventribe (x4)
Sherlock Brothers
Shotgun Crackers
Shout out Louds (x2)
Sick of it All
Sick Puppies (x2)
Side Effects
Simian Ghost
Simple Plan
Sinful Capacity
Sister
Sister Sin (x2)
Skillet
Skunk Anansie (x2)
Slash (x4)
Sleeping Fools
Slipknot
Smash Into Pieces (x2)
Smashing Pumpkins
SOL
Solen
Soles Of Men
Soundgarden
State Of Drama
Stone Sour (x2)
Structures
Sugarplum Fairy
Suicidal Tendencies
Suicide Silence
Summer Heart
Summoned Tide (x2)
Supercharger
Sveriges Radio Symfoniker
Swallow The Sun
Syket
T N T
Takida (x7)
Tant Strul
Tantrum To Blind (x2)
Teddybears
Teitur (x2)
Tennis Bafra
Thao & The Get Down Stay Down
Thåström (x2)
The Ark (x2)
The Avett Brothers
The Baseballs
The Big Rockets
The Cardigans
The Choir Club
The Cure
The Darkness
The Defiled
The Feud
The Fix
The Gaslight Anthem (x2)
The Ghost Inside
The Go! Team
The Happy Hippo Family (x3)
The Hives
The Horrors
The Hussy
The Jazz Massage
The Kooks
The Men They Couldn't Hang
The Moth and The Flame
The Mudders
The Old Sound Got Cancelled
The Pains Of Being Pure At Heart
The Royal Concept (x2)
The Shins
The Smoking Hearts
The Sound of Arrows (x2)
The Sounds (x2)
The Soundtrack of or lives
The Tallest Man On Earth
The Touch
The Vaccines (x4)
The World Alive
Therapy?
Thomas Di Leva (x2)
Thomas Stenström
Those Dancing Days
Three Green Trees
Thundermother
To Kill A King
Tommy Körberg
Top Cats
Top Hawk
Tove Styrke (x2)
Trailer Trash Tracys
Trashqueen
Tribes
Trivium
Trubbel
True Velocity
TUFF & Shameless
Turbonegro
Tutankamon
Twin Atlantic
U.D.O.
Ulf Nilsson
Upon a burning body
Urban Cone (x4)
Vånna Inget
Västerbron
Venus & The Octopus
Veronica Maggio (x2)
Vicvisius
Viktor & the Blood
Vinne Paul
Vintage Trouble (x2)
Volbeat (x2)
W.A.S.P.
Wasted Saints
We Came As Romans
We Met Tomorrow (x2)
Whitesnake
WIG WAM
Wild at Heart (x2)
Willy Clay Band
Winhill/Losehill
Within Temptation (x2)
Wolfmother
Woodlands
Yast (x2)
Yohio
You Ate My Dog
You say France and I Whistle (x2)
Young Guns
Zap Mama
ZZ Top
(uppdaterad till: 2015-01-01,
ca 675 st) 
Artister jag intervjuat:
Ben Johnston från Biffy Clyro 2010 & 2012
Mike Wengren och John Moyer från Disturbed 2010
Sergio Vega från Deftones 2010
Seventribe på Released Live & Unsigned 2010
Trashqueen på Released Live & Unsigned 2010
Days of Jupiter på Released Live & Unsigned 2010
Lucy Seven på Released Live & Unsigned 2010
Seventribe på Sonisphere Sverige 2011
Reenact på Released Live & Unsigned 2011